Have you ever shaved the kitty? Now, I'm not talking about the one that meows and scratches up the furniture (if it does, then you need to see your doctor...soon!). No, I'm talking about the other "kitty." Yes, that one!
Okay, now that we are on the same page.
Over the years, hairstyles have managed to work their way "south" and shaving or waxing the kitty completely bald became one of them. Well, let's just say that somewhere in my distant past, curiosity got the best of my kitty, and I thought I'd give the bald look a try. So I took out my razor, assumed the position, and shaved away. When I was done, I walked over to the mirror and took a look. Staring back at me in the mirror was pretty much the same thing you see in that picture up there. Wrinkles and all! IT WAS HORRIFYING!
Okay, so the bald look is not for me. But like a lot of you women out there, I do have a certain style that I like to maintain. But before I reveal mine, let's take a look at some common styles, shall we?
WILD AND FREE – This style is all about being carefree and letting things grow as nature intended. It is surely a look that requires a bathing suit bottom with a skirt. If you go without one and you are a backyard sunbather, this could explain why your doorstep is littered with business cards from the neighborhood gardeners. For some of you the look works. It requires no maintenance, just wash, rinse and dry and you're done. However, I would not recommend this look for any of you single gals who are looking for love, as most men nowadays would respond with the same look as the one on that monkey's face the first time he sees you naked.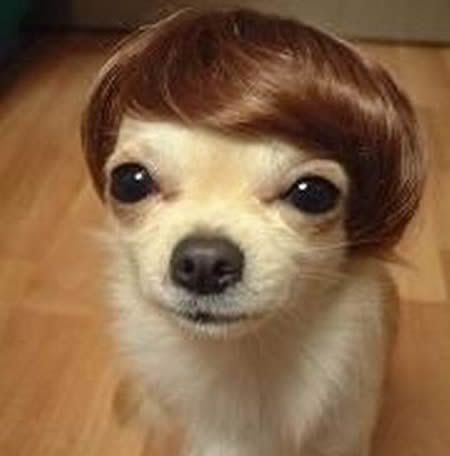 NEAT AND TIDY - Here, we have an example of those ladies who like to keep things nice and neat. There's nothing fancy about it, just a simple trim here and there that shows you have an interest in your appearance. But unlike our gal in this picture, if you are going to do a dye job, I would recommend making sure the carpet matches the drapes.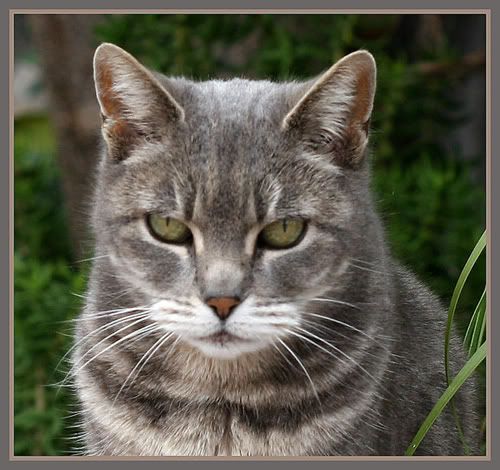 SALT AND PEPPER - For those of you who are older, you may have more of a salt and pepper look going on. Some of you keep it neat and tidy, while others let things go wild and free. Either way, it's a low maintenance style and saves the cost of expensive dyes. This is very important, because it's usually around this time of our life when our aging kitty has to pay a visit to the doctor more often, so that extra money comes in handy.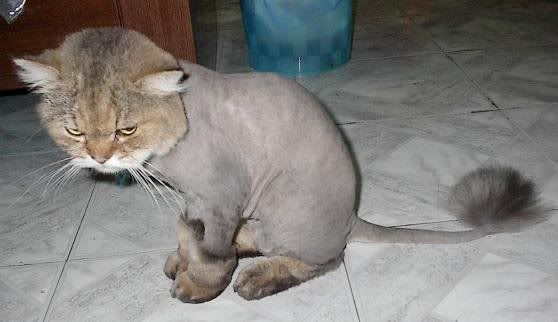 THE HYBRID - Now, this is more like my look nowadays. Shaved in certain areas and neatly trimmed in others. It does take a little skill to get things just right, but definitely worth the effort, as this style is very bathing suit friendly and it does a great job at keeping the gardeners away.
BAD TO THE BONE - For some of you, your kitty looks a bit like this. Now, maybe the hair is not quite as long and spiky, but it's got a bit of an edge to it in more ways than one. Not everyone can pull off a look like this one, but then again, not everyone wants to. It is certainly best left for our female rebels of the world.
POTPOURRI - Last but not least, there are those who have it all going on down there. Trim, buzz, and dye, with a touch of personal flair mixed in. Sometimes I wonder if this might be how a clown looks naked. For some of you, this look is on purpose, for others it's the result of an experiment gone wrong. Regardless, you can be rest assured that this look is no stranger than me wondering what naked clowns look like.
So there you have it. All of the various kitty styles walking around out there. Of course, if I missed something, I would love to hear about it. But no pictures, please. I was frightened enough by the sight of my own kitty when I decided to go bald. I don't need to fry anymore scary images into my already warped brain.